How can we help you? In-Plas Recycling supplies quality recycled products.Please take a minute to let us know your requirements.
Commodity Grade Regrinds
Ongoing suppliers of Regrind HDPE, LDPE, LLDPE, PP, HIPS, GPPS and Flexible PVC.
Enginering Grade Regrinds
Including but not limited to: ABS, ABS/PC, PA, PBT, PC, PPE/PA and PPO.
Custom Formulated Pellets
Recycled materials in Pellet form. Formulated and color matched to your specifications.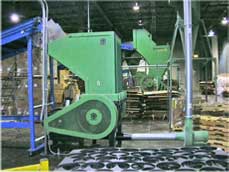 WHY BUY FROM US
We set the standard for quality
Every box tested and graded.
Bar code tracking
Knowledgeable operators
We are not brokers, we are processors
We physically handle 100% of what we sell
We add value through every step of the process
We will only offer materials appropriate to your application.
Competitive Pricing
Our pricing is competitive and in line with the marketplace.